2020 The Traveller Notes
1: HI FABIO! CAN YOU TELL ME ABOUT YOURSELF AND YOUR BACKGROUND?
Hi! I'm an Italian photographer and travel blogger currently living in China. I was working as an IT developer, but I wasn't happy with my life. So, in 2014 I moved to Taiwan with my wife. It wasn't an easy decision and sometimes it has been really challenging. Living on the other side of the world, immersed in a culture that is totally different from what I knew was hard, and yet I loved that experience. Living in Taiwan gave me an opportunity to spend more time doing what I really love: travelling and taking pictures!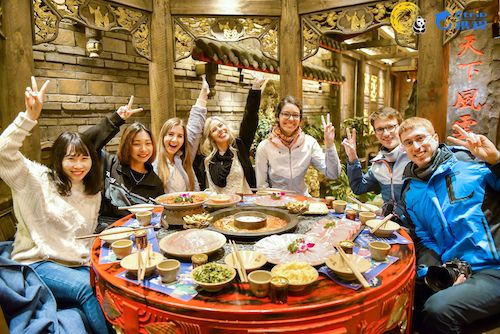 Hot pot dinner
2: HOW LONG HAVE YOU BEEN LIVING IN CHINA? AND WHAT BRINGS YOU HERE?
My first year I had been living in Kaohsiung, Taiwan. I decided to change my life because despite having a good job I realized that I don't like that life anymore. I always wanted to have more freedom and I never liked the idea of having to ask for some time off from other people.I decided to move to Taiwan because it seemed like a good place to start a new life: it was totally different from all I knew and I liked their lifestyle. After Taiwan, I moved to mainland China and I've been here for about 4 years already.
Taibei View
3: WHAT MADE YOU DECIDE TO MOVE TO YUNNAN?
After one year in Taiwan, I realized that one of my biggest priorities was living in a place with good weather. Being a tropical island Taiwan was way too hot and humid for me. I honestly didn't know anything about Yunnan but all my Chinese friends told me that it is the best place in China, weather-wise.So, I decided to check it out and they were right! Despite being near the tropics, the province is, for the most part, a plateau and the weather is great in many cities.Besides the weather, Yunnan is a great place for photography: amazing landscapes and a very interesting culture with all the different ethnic groups that live in the farthest part of China.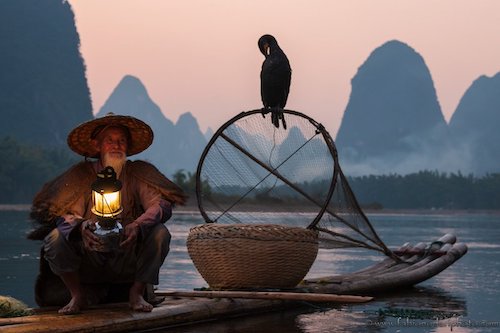 Fisherman
4 : WHAT IS THE BEST AND THE HARDEST THING ABOUT LIVING IN YUNNAN AS AN EXPAT?
The best part is definitely the weather. But some days during the winter can be quite cold, but mostly, the climate is nice. Another great thing is that I can find local cheese and ham, something I really miss about Italy. I also like the relaxing vibe here. Even in the big cities, you don't really have the impression that people are stressed out, especially compared to other places in China such as Shenzhen and Shanghai.
The hardest part is that Yunnan doesn't have many job opportunities such as in more developed areas of China. Also, most people speak local dialects and it's difficult to understand what they say.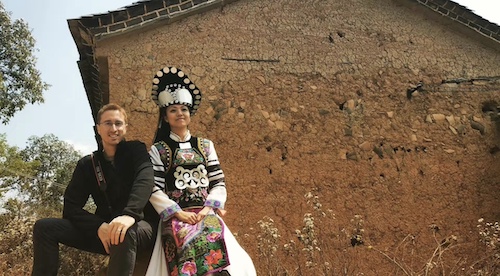 Minority Women
5: YOUR PHOTOS ARE SO BEAUTIFUL AND MAKES ME WANT TO TRAVEL MORE! HOW MANY COUNTRIES HAVE YOU ALREADY VISITED, WHAT DO YOU LIKE MOST ABOUT IT AND HOW IT EFFECTED TO YOUR LIFE?
So far, I've visited 38 countries. There is always something I like about every single country but if I have to choose, I'd say Jordan for the food, Australia for the wildlife and China for the landscapes.Visiting many countries helped me to become more patient and thankful. I didn't know how important hot water could be for so many people.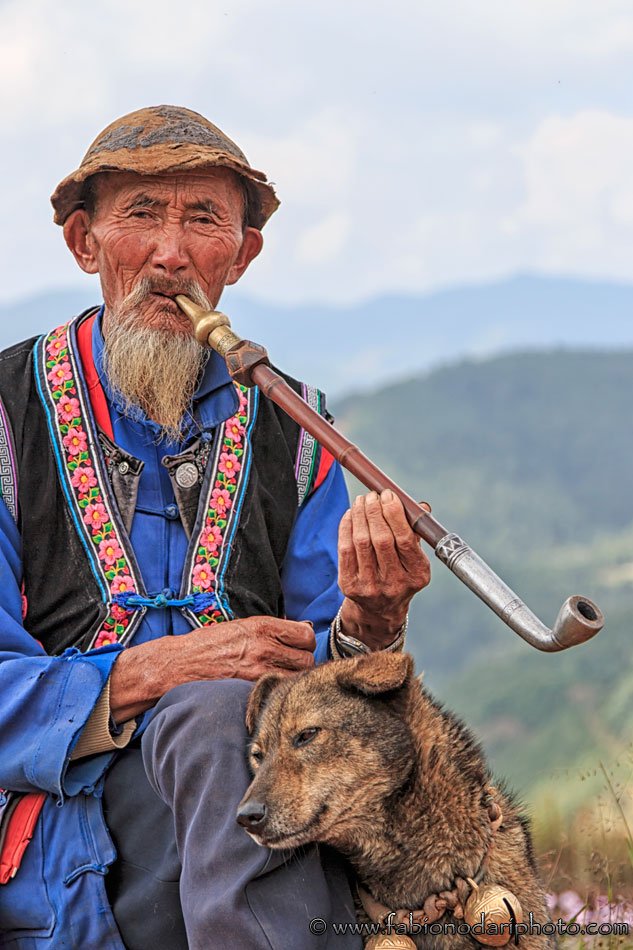 Old man and his dog
6: HOW YOU BECOME A TRAVEL BLOGGER? AND WHY?
That's a good question. To be honest I didn't plan it. One day I started taking pictures and I really enjoyed it. So, I decided to create a website to share my pictures. Also, I was writing articles about the places I visited and how to take better pictures.From there thanks to the social media where I have the people who are admiring my works. After a while I was invited by many companies to work with them and I could do what I really enjoy at the same time making money.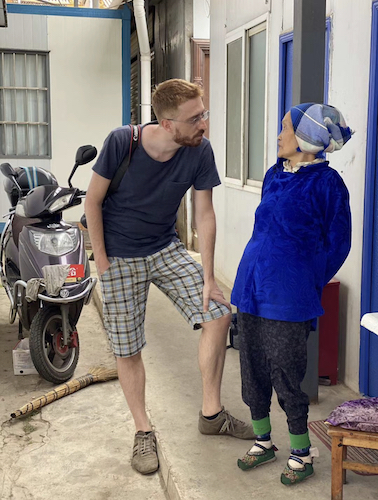 "Golden Feet"
7: HOW THE GLOBAL PANDEMIC EFFECT TO YOUR LIFE?
Well, with the recent pandemic no one knows when the travel industry will recover. Hopefully in a year or so everything will back to normal but meanwhile its quite difficult to plan. I might need to reinvent my career one more time. I honestly don't know but probably I will move back to Europe. If possible I'd like to travel more, but I'd like to travel at a slower pace, getting to know the local culture better.I also hope to explore more of my country, because I've visited more places in Yunnan than in Italy.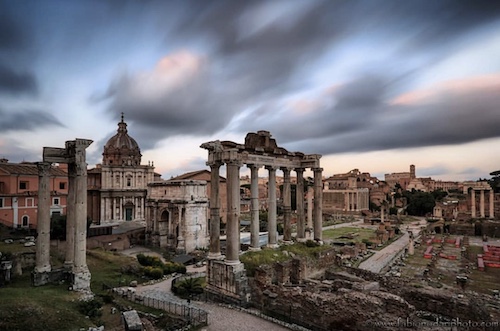 Rome
The global travel industry has been one of the sectors hit the hardest by the coronavirus pandemic. Millions of jobs are at risk worldwide and businesses are going bankrupt since the lockdown. But what lingers most after a pandemic, or any large-scale catastrophe, is a pervasive sense that the world is fundamentally unpredictable — that life feels more fragile than it once did. All of us have to adapt to a new way of living, working, and forging relationships. The pandemic has disrupted our habitual routines, jolt us out of our comfort zones, and lead us to ask big questions about what matters and what is worth doing.

Here are the photography works posted on instagram @fabionodariphoto, you can also check his own website to discover more.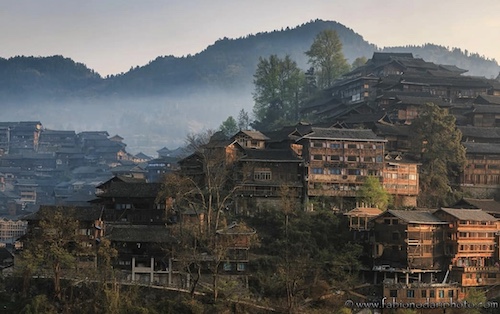 Miao Village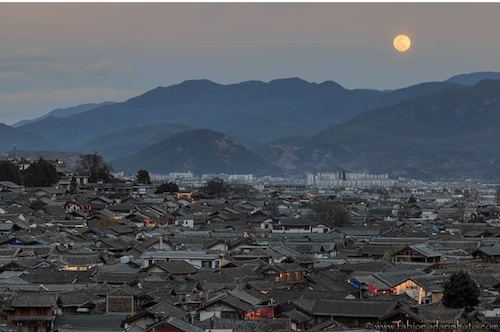 Old Town of Lijiang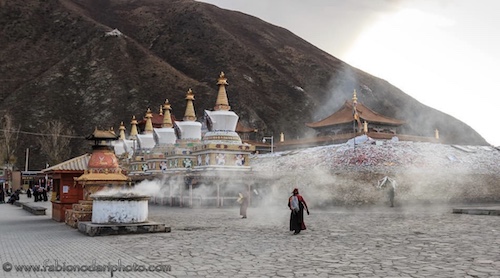 Yushu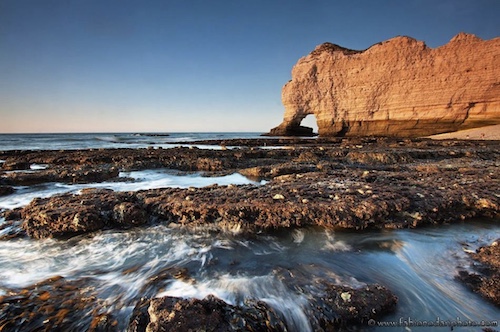 Etretat
{{detail.praiseNum}}