Swap Meet on this weekend
Fee:¥1 / Person
capacity: 1 People
Location:W STAGE 北京 (当代MOMA, S9-105)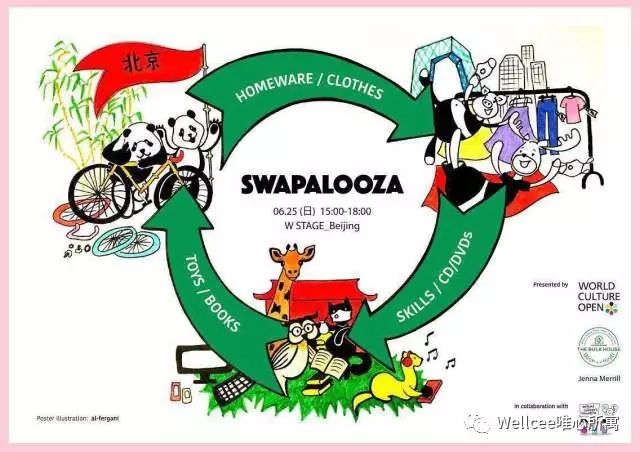 SWAPALOOZA!
On Sunday 25th of June, you are invited to the festival of sharing, swapping and up-cycling! Bring your unwanted goods to exchange for new treasures, or up-cycle your clothes right on spot - our team of designers will be there to give your loved outfits a new life!
WHY:
Because you probably have too much stuff!
WHAT:
"Swapalooza" is friendly community swap festival that invites everyone to be more eco-conscious: buy less, swap more, recycle and up-cycle.
What is "swap" - to exchange, barter or trade one thing for another.
What is "paloooza" - as described by urban dictionary, is "a very drunken extravagant party with a plethora of friends".
WHEN & WHERE:
June 25th (Sunday) 2017 // 15:00-18:00
W STAGE Beijing (Dangdai MOMA, S9-105)Free admission, no registration needed
BRING TO SWAP:
1. Clothes & footwear
2. Homeware (kitchen ware, vases, picture frames, candles, rugs etc)
3. Books, stationary, CDs/DVDs
4. Toys
5. Skills!
Bring in some food and drinks to share - let's have a community potluck - it will be fun! :)
SWAP RULES:
1) Please, no selling at this event. This event is purely about the free exchange of items you don't use anymore. Please don't bring broken items.
2) Please try your best to bring one thing to swap, share or donate.
3) Please bring items that are clean, reusable and in good order. Make sure clothes do not have rips, tears, or stains, and electronics are working properly.
4) Don't swap medicines of any kind.
5) The following items exchange is prohibited
No swapping of used underwear, or any undergarments including socks.
No swapping anything previously used by animals.
All items that are leftover at the end of the day will be donated to The Migrant Children's Foundation (MCF) who will distribute them to people in need.
We would love to see you there on Sunday, one fun way to spend a Summer weekend!
--Your Swapaloooza elves team
Organizers
World Culture Open is a global network of creatives dedicated to cultivating sustainable platforms for creative collaboration.
The Bulk House believes it is a time we all focus on environmental protection and sustainable development within our daily lives. Combining Zero Waste and minimalism will have a huge positive impact on our lives and our beautiful planet. The Bulk House is excited to share this consciousness and encourages people to value and love the things they own and ensure nothing is wasted. Their aim is to produce and provide environmentally friendly products whilst organising and promoting green activities and educational events.
Jenna Merrill is an eco-enthusiast who hopes to create a platform for sharing secondhand, skills and learning through building a community of swappers.
Partner
The Migrant Children's Foundation (MCF) is UK charity based in Beijing that work with migrant children and their families from rural China to offer them access to social service in the city such as education and healthcare.
{{detail.praiseNum}}