My Journey: Rachel Meets China
1 : HI RACHEL! CAN YOU TELL ME ABOUT YOUR BACKGROUND AND DESCRIBE YOURSELF IN 3 WORDS?
Hi I'm Rachel! I'm 27 years old and I'm an American who has been living in China for 5 years. During my time here I've lived in 3 different cities, travelled to over 30 places in China and many countries in Asia, taught English to students of all ages, and worked with many media companies and tourism brands in China. I would describe myself as optimistic, adventurous, and curious.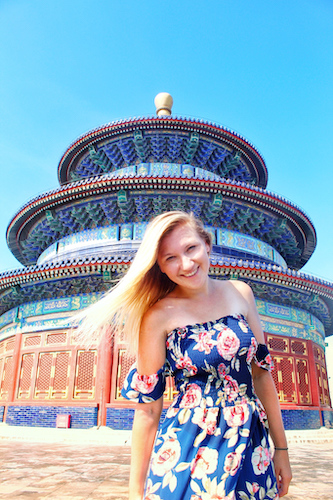 2 : HOW LONG AND WHERE HAVE YOU BEEN LIVING IN CHINA? AND WHAT MADE YOU DECIDE TO MOVE TO CHINA?
I never thought I would be in China for 5 years. The plan was to teach abroad for a year then go back home…which obviously didn't happen! I lived in Hengyang (a small city in Hunan province) for two years, then in Guangzhou for one year, and now Beijing for two years and counting.
I moved to China because I was looking for an adventure living in a different country. I wanted to teach abroad for a year and experience a new culture. I had studied abroad in Europe for 3 months as a university student and wanted the chance to do that again, but for longer. So after I graduated, I packed my bags and moved to China.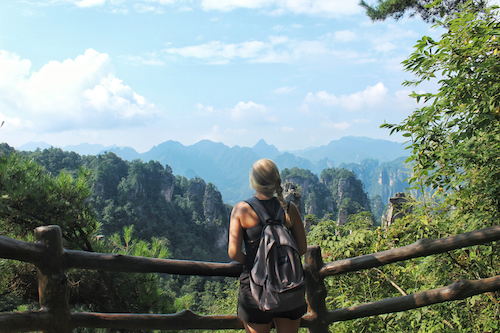 3 : THAT'S IMPRESSIVE! HOW WOULD YOU DESCRIBE THE LIFE IN HENYANG, GUANGZHOU AND BEIJING?
My experiences in these three cities have all been so different! Each city has their own foods, dialects, and unique features, not to mention different populations.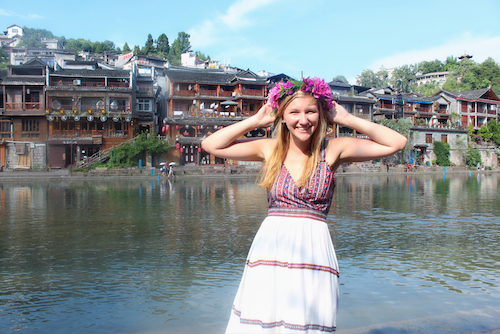 Rachel in Hunan Hengyang was a small city, which took some adjustment at first. There was a lot of unfamiliar foods with names we couldn't pronounce, signs everywhere that we couldn't read, and not many people who could speak English.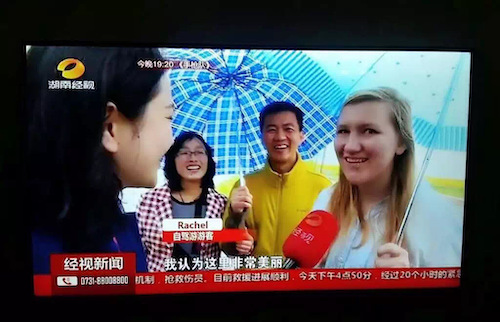 People would stare at us when we walked around and they would snap photos of us on the street. It was all so bizarre, but also really new and exciting. Once we adapted to small town life, living in Hengyang was great. I learned a lot about Chinese culture while living in Hengyang. I tried taiji, played mahjong, and learned how to make dumplings. I danced with the Chinese ladies in the square outside, drank a lot of hot water, and sang at KTV. Lots and lots of KTV! I listened to Chinese music and fell in love with the Chinese pop star zhangjie. Oh, and I tried Baijiu for the first time – but certainly not the last.
Guangzhou and Beijing are much bigger international cities, so the experiences you can have are much more diverse and varied. I would say life here is very colorful and exciting. There's always something going on. I've met people from all around the world and there are so many events and organizations to join.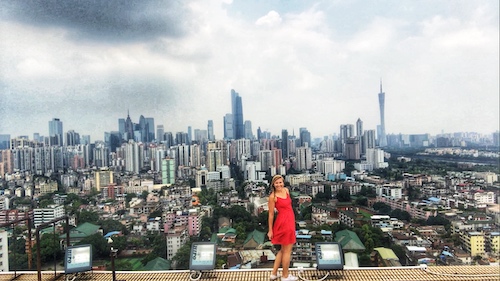 While my first 3 years in China felt more like I was living in a foreign place, living in Beijing felt more like I had made a home here in a foreign country. I loved Beijing, my job, my friends, and the community I built here, and couldn't imagine leaving, so I stayed for my 5th year in China.
4 : WOW, IT'S AN AMAZING EXPERIENCE! HOW MANY PROVINCES IN CHINA HAVE YOU ALREADY VISITED, WHAT DO YOU LIKE MOST ABOUT IT?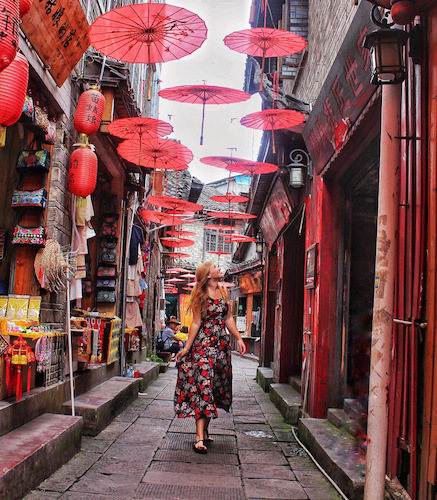 I've visited 21 provinces! It's my goal to visit every province and special region in China, so I'm over halfway done! I love how diverse China is – there are big cities, small villages, beautiful mountains, karst landscapes, deserts, and more. Every province and city has their own dialect and special dishes and flavors that are unique to themselves. So even though you're still in China, when you travel it's almost like traveling to a new country. It's changed my life in so many ways!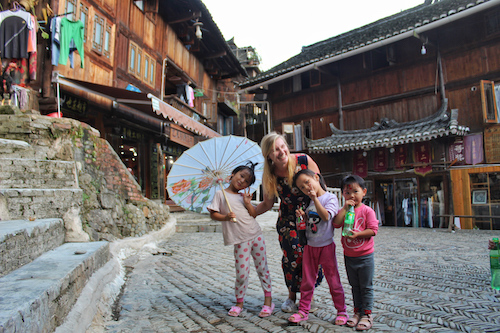 I've traveled to visit many of my Chinese friends in their hometowns and learned so much about their lives. I've also traveled with friends, and also solo. I enjoy the opportunity to experience new challenges and joys and meet new people along the way. It's taught me to be very flexible and enjoy what happens on the journey.
5 : WHAT IS THE BEST AND THE HARDEST THING ABOUT LIVING IN CHINA AS A FOREIGNER?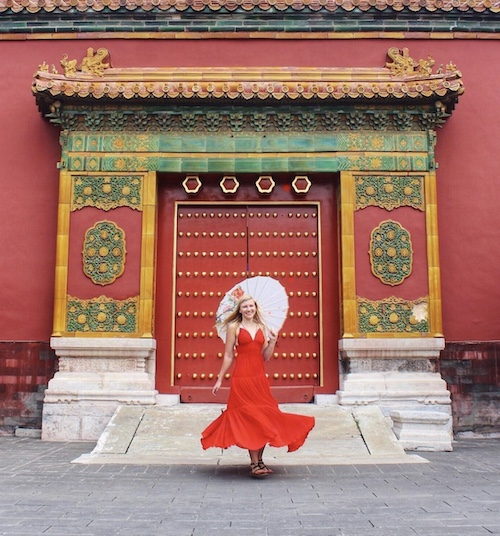 The best thing is the opportunity to have a completely different lifestyle. My life in China is such a different pace to living in Texas where I've from ! Everyday is different, and I get to try so many new things here. The hardest thing, especially in the beginning living in a small city, were the language barriers. Once I learned to speak some Chinese though, life became much easier.
6 : HOW ABOUT YOUR SOCIAL LIFE? HOW EASY IS IT TO MAKE FRIENDS?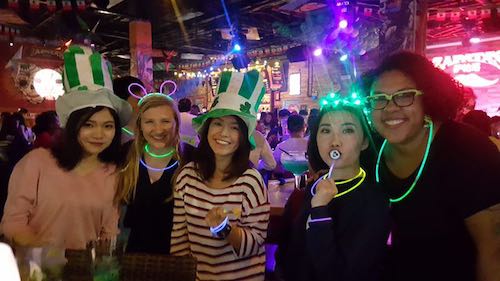 I love being very social! The great thing about Beijing is how big the expat community is. There are so many groups to join and opportunities to meet people, so I found it very easy to make friends. I play volleyball in a league here, and recently joined a rugby team. I also have met many friends through events like trivia nights, travel groups, book clubs, female expat groups, and so on. Finding groups related to your hobbies is a great way to meet people here!
7 : THAT'S GREAT! HOW ABOUT YOUR PERSONAL LIFE, IF YOU DON'T MIND ASKING? HAVE YOU EVER HAD A RELATIONSHIP WITH CHINESE?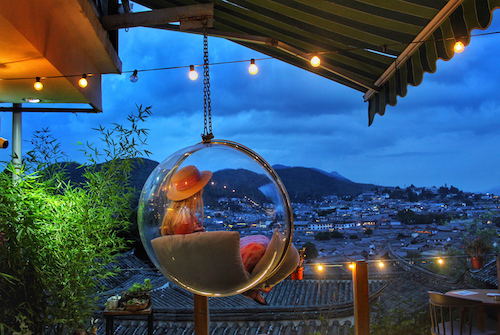 When I lived in a small city I had a short relationship with a Chinese guy I met. It was very difficult because my Chinese wasn't great and his English wasn't great – we had to speak through a translation app a lot of the time haha. I went on several dates with other Chinese guys but the language barrier always made it difficult.
8 : ANY RESOURCES YOU FOUND USEFUL DURING THE PROCESS OF MOVING TO THE NEW CITY?
When moving to Beijing I read lots of resources online and on Wechat to learn more about the city! Looking for an apartment in a new city is also quite difficult, so Wellcee is very helpful to find more information out about living in Beijing and finding a place to live. The Beijinger was super helpful in finding information about city life and events in Beijing.
9 : WHAT IS YOUR PLAN FOR THE NEXT 2-3 YEARS? AND WHAT IS YOUR NEXT CITY?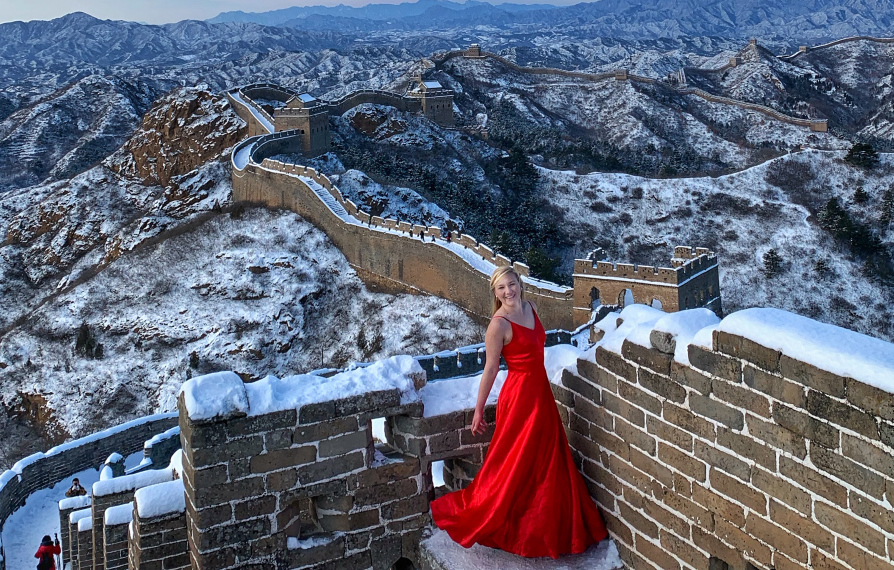 I don't plan on living in China forever, but for the next 2-3 years I could see myself staying here! There is so much more I want to see and do here, and more places to travel. I've considered moving to Shanghai or another city in the future, but I'm very happy in the Beijing community and with my life here, so I will stay in Beijing longer.
There is an old Chinese saying: "Read ten thousand books and travel ten thousand miles". After all, the best education you will ever get is traveling and reading. Nothing teaches you more than reading the right books, exploring the world and accumulating experiences.
I really impressed by Rachel's passion and enthusiasm about life, how is she open-minded and brave to explore alone a completely different country. Surely, she just started her journey but I'm sure this precious chapter of her life will be definitely buried deep in her memory and accompany her for a lifetime.

click https://rachelmeetschina.com/ to explore more

{{detail.praiseNum}}