As the old saying goes,"There is heaven above, and Suzhou and Hangzhou below". Suzhou is mainly known for its pristine UNESCO-designated gardens and its ancient waterways spidering off of the world's largest manmade canal, China's Grand Canal. With more than 2500 years of history, it gained unique prosperity and charm in the south of the Yangtze River. Suzhou's other signatures include a delicate cuisine of seafood and widely beloved soup dumplings, a futuristic industrial district funded by Singapore, a crooked hilltop pagoda known as the "Leaning Tower of China," and its long-held status as the largest silk producer in the world. All just an hour from bustling Shanghai.
Newcomers say that "exquisiteness" is the best comment on life in Suzhou. After a long time, you'll find that "balance" may be the perfect description of life here. If you are not used to getting up early for a bowl of "top noodle soup", then wait for the first pot of raw fry in the lunch market, and have a drink at a small cafe hidden in the alley. Everywhere you look today, relics of the past commingle with the present: the water towns' ancient canals; a new, sprawling shopping mall that's one of the world's largest. Frozen in time and simultaneously thrust into a smartphone-based future of its own making, Suzhou feels other-worldly.

---
Gusu District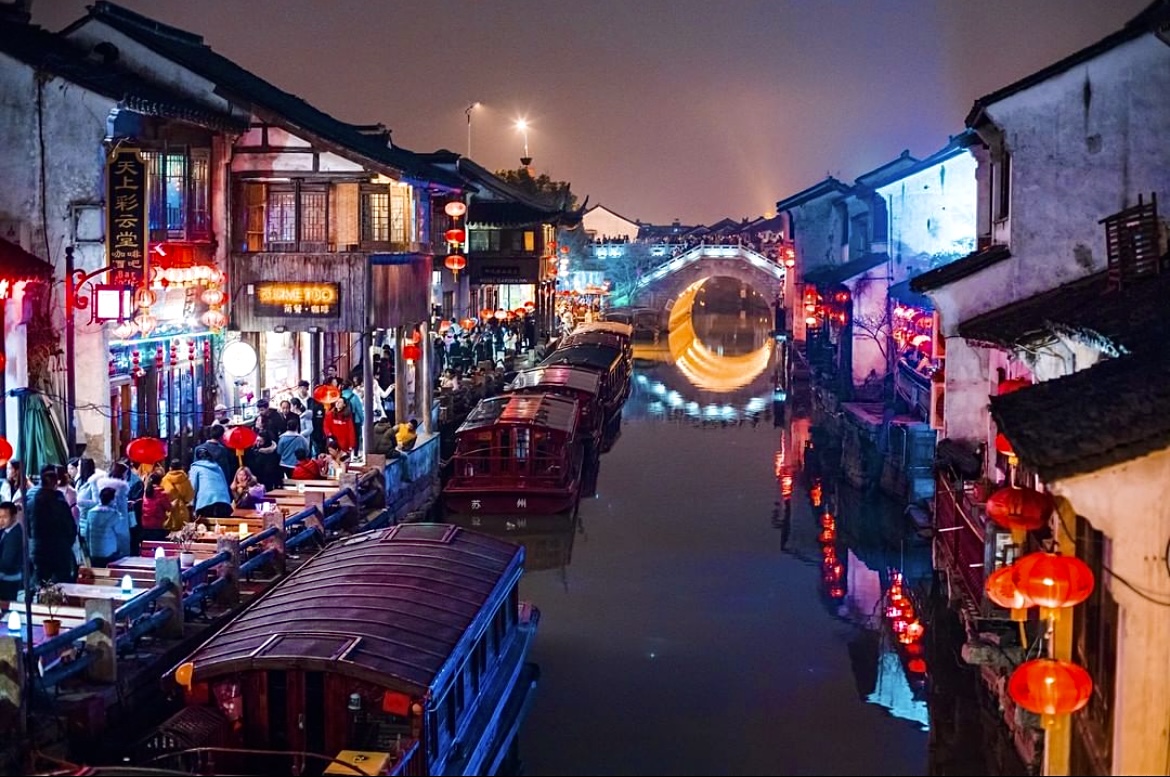 The bustling Shantang Street

For the purpose of historical preservation, the buildings in Gusu District are an obvious contrast to other urban areas. You'll be amazed by those classical Chinese gardens which are an art form that has been cultivated over centuries and combines four elements: architecture, stone, water, and plants. After a quite visit in the gardens, you could try some sample tea and flower wines in trendy shops, or head to a traditional Kun Opera performance at the historic Fuxi Tea House to experience the same traditional singing and costumes that developed here during the Ming Dynasty. Between the street and the road, between the lane and the hall, the architecture and nature are hidden and harmonious with each other, creating an interesting contrast.
The advantages of renting in the ancient city of Gusu are obvious. Both travel and life are quite convenient here. Line 1, Line 2, and various public transportation extend in all directions. Guanqian Street, Humble Administrator's Garden, Suzhou Museum, etc. are all located here, which is a blessing for those who love to have a "Gusu plot" during their stay. But the shortcomings of the ancient city are also inevitable. The houses are generally old and the streets are narrow and cramped. This might a little difficult for those who drive to work.
---
Huqiu District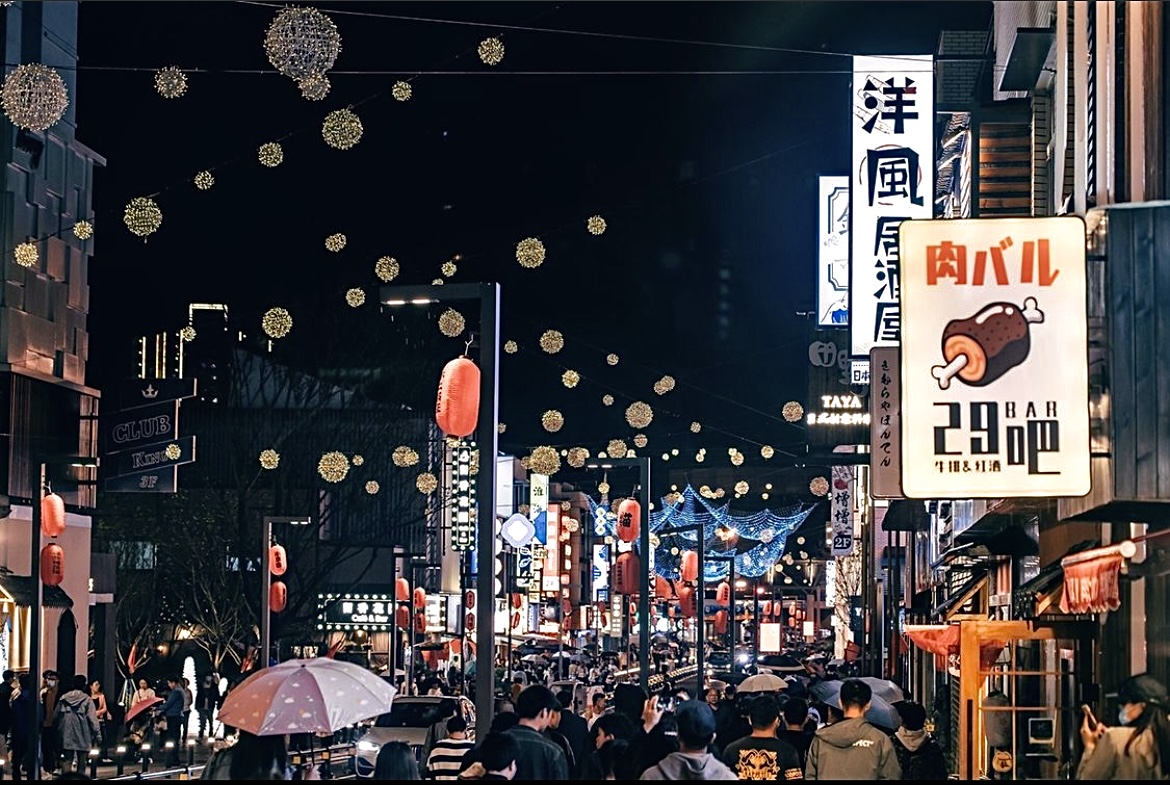 Huaihai Street, a famous Japanese street , in the CBD of Shishan Bridge

In 2002, the high-tech zone, known as "Suzhou New Silicon Valley", enter the Huqiu District. Therefore, renting an apt in Huqiu District will leave you many choices. You can choose the nostalgic old house in Shenxiangwanlong , or in the "New District CBD" Shishan Business Innovation District, a multi-dimensional community that is very modern and integrates business office and fashionable life. Though it is close to the urban area, life is quite calm and chilled. Huqiu District, with busy traffic and high-rise buildings, has attracted a large number of high-tech enterprises including "Alibaba Cloud" because of its location — Beijing-Hangzhou Grand Canal and the intersection of Line 1 and Line 3. It has a developed economy and convenient transportation. It is a gathering place for white-collar elites. At night, this "Japanese street" will bring you lots of surprises. The gentle Huaihai Street makes the night even more gorgeous.
---
Industril Park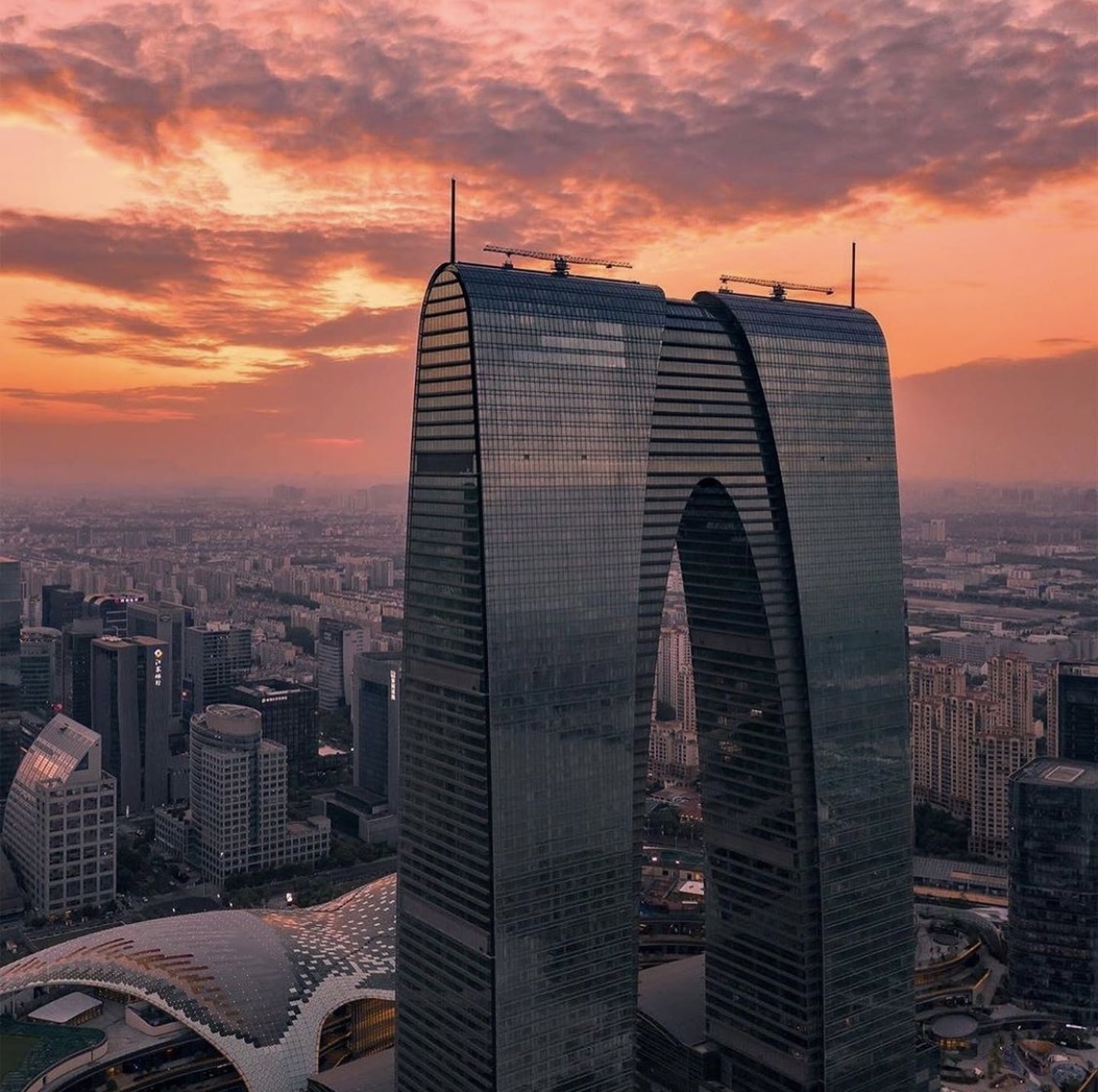 The so called "big pants"

This fashionable and modern area has gradually caught people's attention and has become somewhat controversial. People who don't like it say that it does not conform to Suzhou culture. Those who like it say it is the most "petty bourgeoisie" urban area in Suzhou, with everything young people like, fresh, natural, and simple. The business district was co-funded by the government of famously luxurious Singapore in exchange for usage rights, and the ever-growing area draws visitors and locals alike to waterfront theatrics every Friday: a large-scale fountain and light show on Jinji Lake, the largest inland lake in China.
The massive Suzhou Center mall (at more than three-million-square-feet, it's one of the world's largest) and surrounding lake boardwalks incorporate public art, modern shops, and impressive architecture and green spaces that will have you feeling like you've been transported to Singapore or Dubai. Many well-known companies gather here. The huge job market provides a great platform for the young dreamers. Young people certainly can make like-minded friends. Metro Line 1, Line 2, and the shared bicycles that can be seen everywhere which greatly facilitate commuting, and neighbourhoods are equipped with a neighbourhood center covering eating, drinking and entertainment. Living in the park is great, except for the higher living cost.
---
Wuzhong District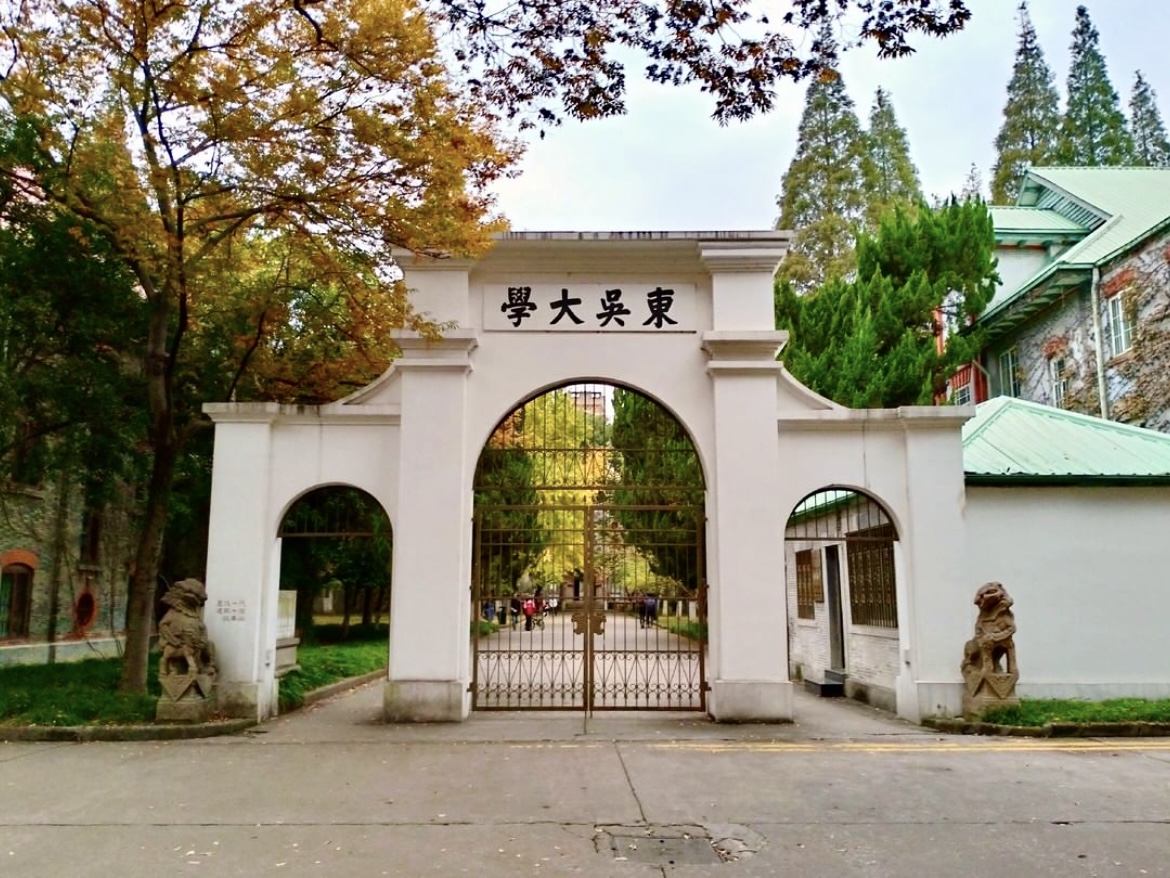 Suzhou University (called "Dongwu University") was built in 1900
Wuzhong District, the birthplace of Wu Culture and "The Art of War " by Sun Tzu, has a profound historical heritage. It sits on the beautiful shoreline of Taihu Lake and is the popular spot for outings in Wushan, Shihu and Shangfangshan National Forest Park.Wenzheng College and other universities gather in the International Education Park, which combines modern education with landscape and humanities. Metro Line 2, Line 4 and Line 5 (will soon be available) will spare you the hectic traffic in rush hours."Apt can be rented, but life cannot". If you have to sacrifice the exciting urban life and want to have a warm "cozy home", renting in Wuzhong District is a good solution. .

---
Xiancheng District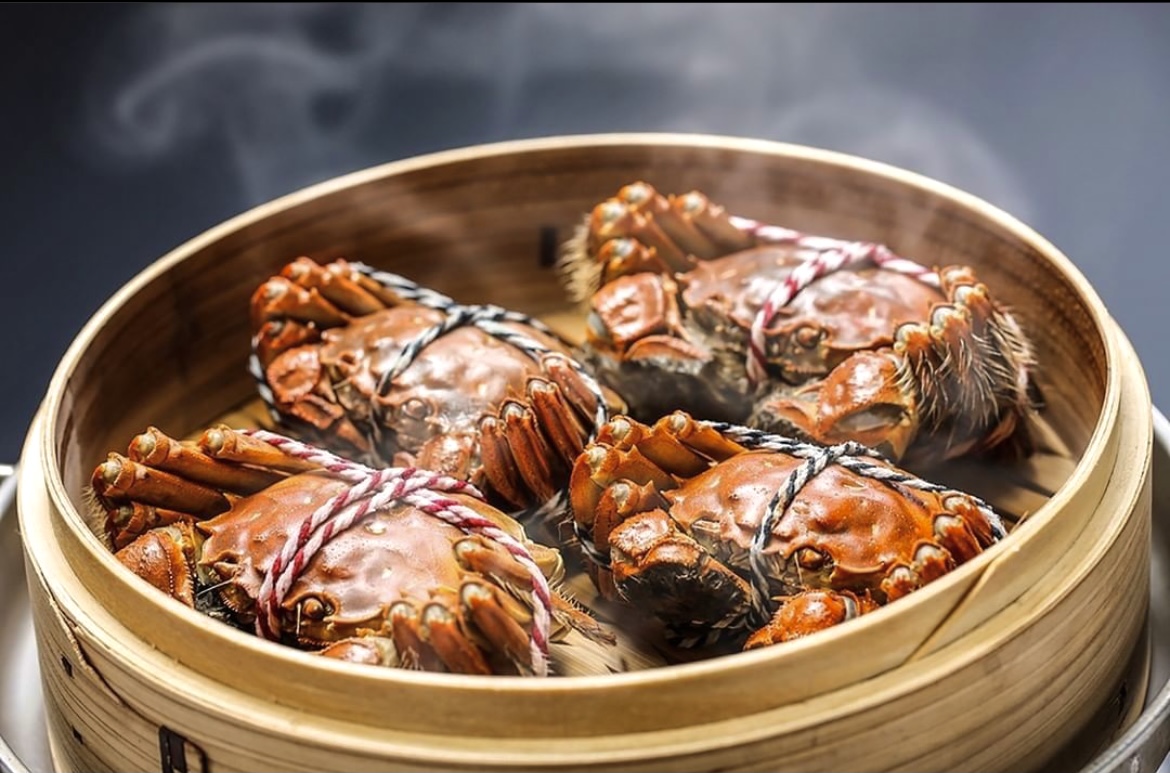 The famous "Yangcheng Lake crabs"

Xiangcheng District, famous for its developed transportation, is one of the most developed areas in Suzhou and even the Yangtze River Delta. It has 11 high-speed entrances and exits. The Beijing-Shanghai High-speed Railway and the Tongsu-Jiamen Intercity Railway both have stations in Xiangcheng. This means that living in Xiangcheng District makes it very convenient to travel around.In addition, relying on developed transportation, Xiangcheng District not only has a large number of municipal projects such as the International Convention and Exhibition Center, the International Culture, Sports and Art Center, but also the Lotus Island, the Bund and the Yangcheng Lake Resort. The only disadvantage is that Xiangcheng District is far away from the city therefore lacks the excitements of urban life for some young people, but if you prefer this cleanness, the super cost-effective rent may make up for it.

---
Wujiang District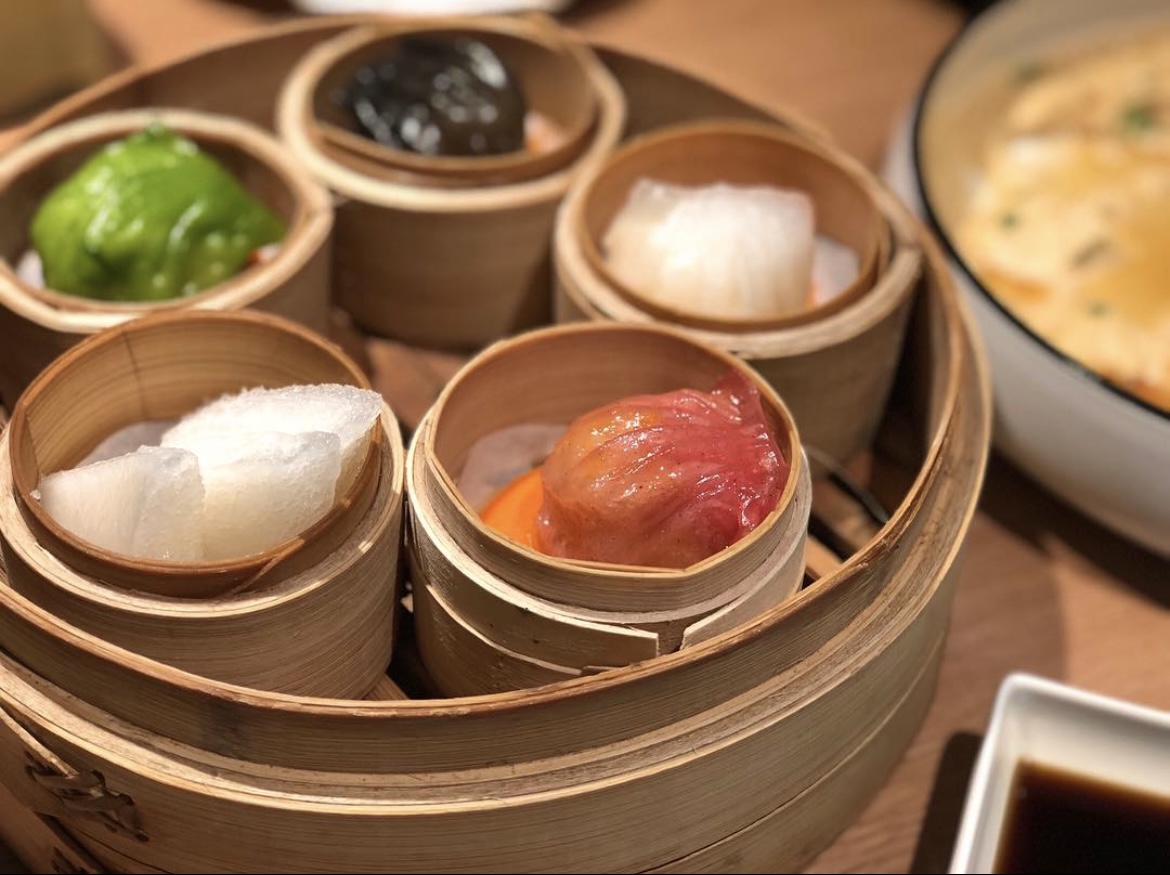 "Colourful" dumplings are a specialty of Suzhou
Since its withdrawal from the city, Wujiang District has developed rapidly. An entire ecological chain derived from the famous textile town Shengze has created a huge job market and provided a lot of employment opportunities for young people. Although not as good as other urban areas with their own superior geographical location, the completion of Metro Line 4 and the South Side of the West Ring Road have greatly shortened the distance between Wujiang District and the main city. Compared with the living facilities in other urban areas, Wujiang District is a bit backward, but the folk customs are more simple and the food is very authentic.
---
The word "Suzhou" is a painting in itself. If you want to escape the turmoil of the world, come to Suzhou. Everywhere you go in Suzhou are humble handmade wonders, from animal-shaped dumplings to embroidered silk, stone bridges, and cultivated gardens. You'll experience much more in the spirit of both history and modernity.