Sanya is a place to be in China, surrounded by mountains on three sides and the sea on the other side, also known as the "Hawaii of China" but better. its miles of coastline, tropical climate, and upscale resorts make it a go-to beach destination for many. But there is so much more what this island can offer. Wellcee will walk you through this coconut paradise and help you finding the perfect home for your holiday, or even long term home.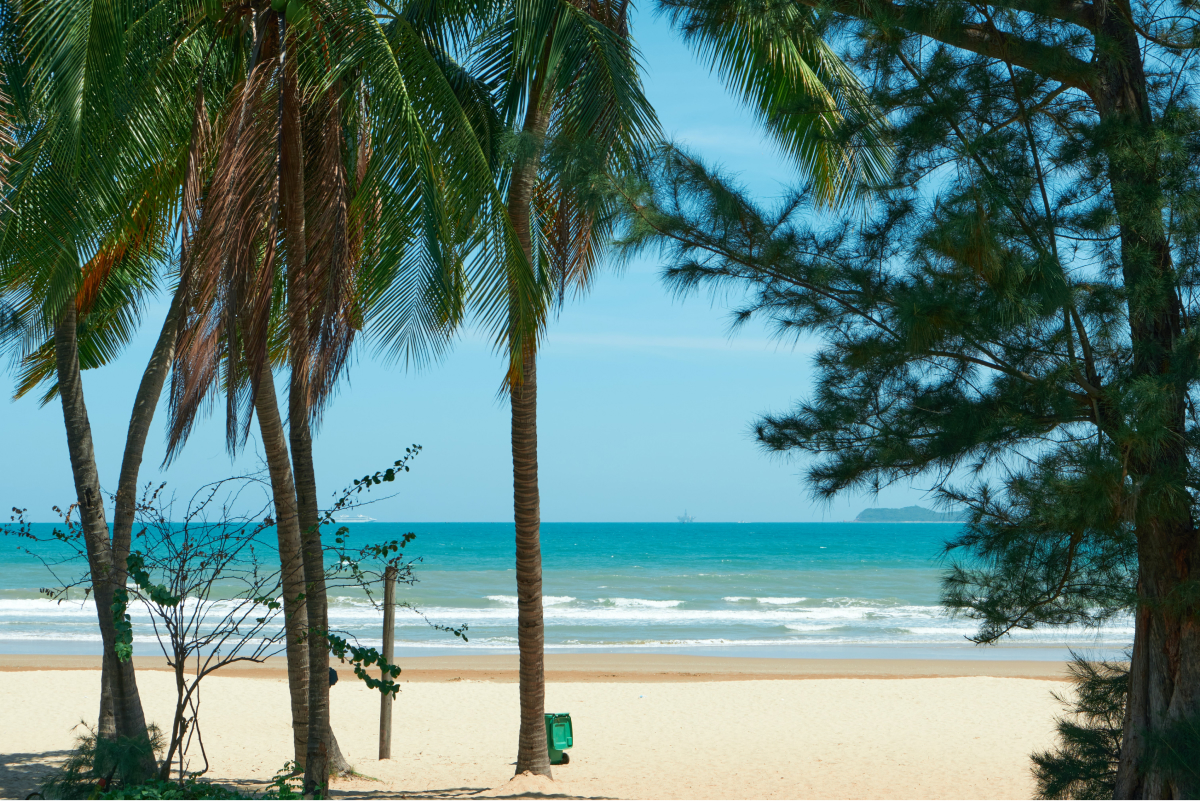 Sanya 22KM Coastal Line - Coconut Dream Corridor
---
Nan Shan Lin

It is a hill located at the southernmost tip of mainland China with an altitude of less than 500 meters. This area highlights consists of gardens, sculptures, sea views, and different sites dedicated to Buddhist worship. One of its attractions is the 3-sided Guanyin (Goddess of Mercy) statue and at 108 meters high, is the tallest Guanyin statue in the world. In addition, the countless pines trees on Nanshan Mountain are also a symbol of longevity. Living in Nanshan, you'll easily attain peace of mind and tranquility.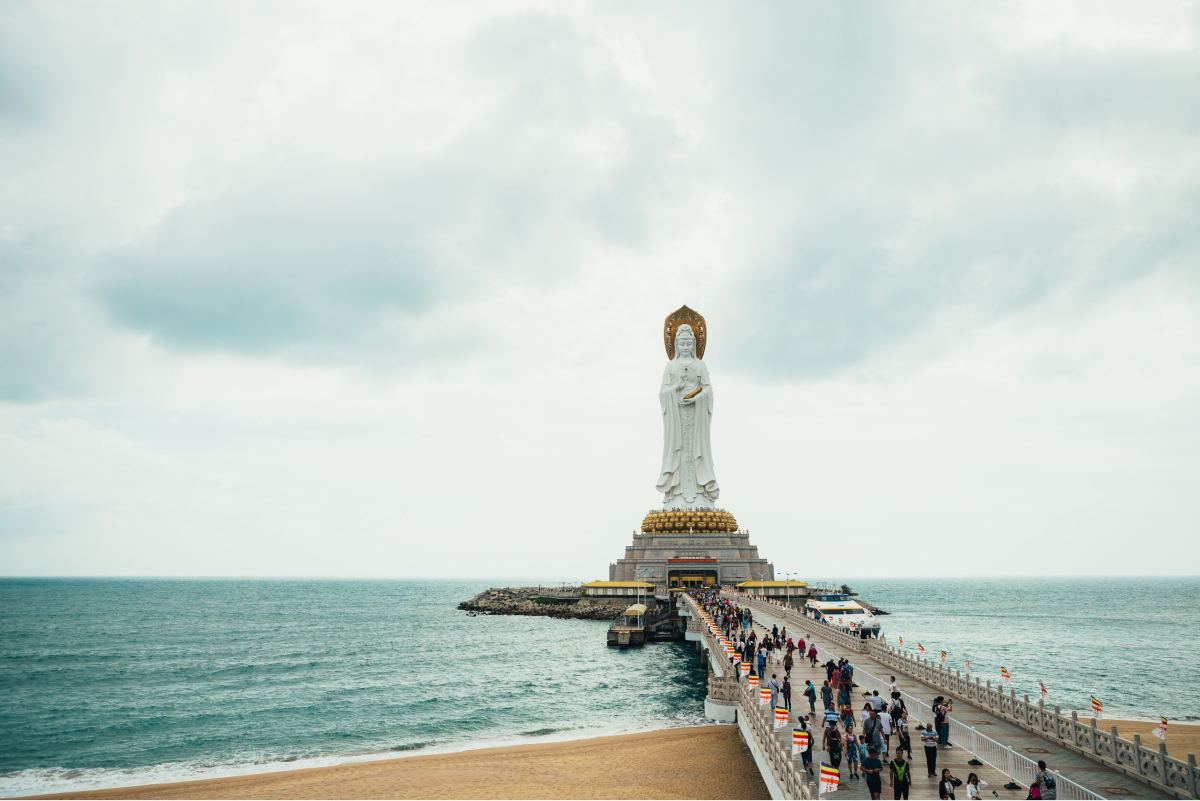 108M high sculpture

---
Sanya Bay

Sanya Bay is one of the five major bays in Sanya City with a 22 km beach. located at the southern coast of Hainan, bordered by a peninsula at the east side, hosting Tianya Haijiao and Luhuitou Park which are the two most famous attractions in Hainan. Tianya Haijiao has unique scenery rarely found anywhere else. Here the seawater and the sky share the same color, with mist-covered sea, sailing boats, coconut trees and grotesque stones together composing a gorgeous picture. The Luhuitou Park features a 12-meter-tall statue commemorating the legend of a brave young hunter and a mountain deer that transformed into a beautiful young girl. Sanya Bay has the most scenic spots in the five bays, and the rent is relatively low, mainly affordable hotels and Home-stays. It is close to Sanya Phoenix Airport and Railway Station so it has convenient transportation. It is a great choice if you are visiting Sanya for the first time.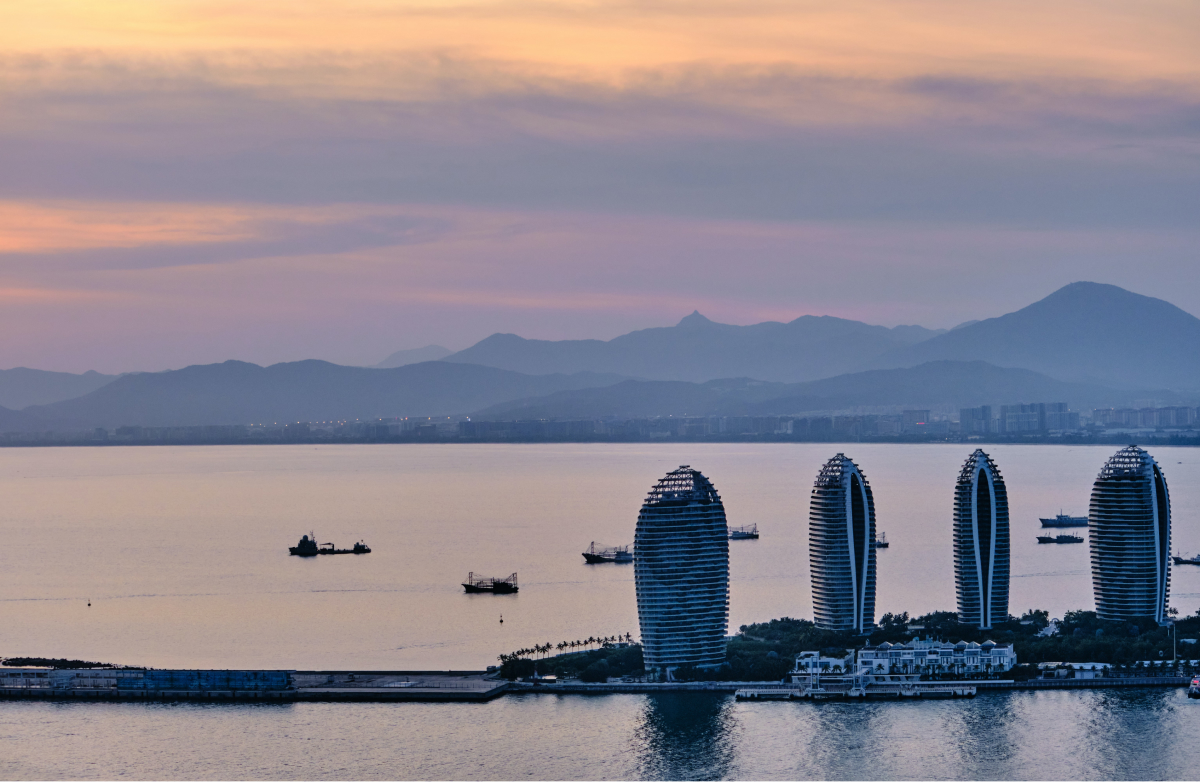 The core of Sanya Bay "Sunshine Coast" - Phoenix Island

---
Dadonghai

The sandy coast of Dadonghai has no reefs, is fringed with rows of coconut trees while crystal clear seawater laps the white sandy beach. About three or four hundred meters east of the beach, there is a coastal park, where you can stand on a hill and look out over the gorgeous land and seascape. It is the most ideal seaside for water sports in southern China. In addition, Dadong Bay is close to the urban area of ​​Sanya. You shouldn't miss the Dadonghai Night Market, seafood + cold beer, steamed, stir-fried, boiled, grilled, you name it.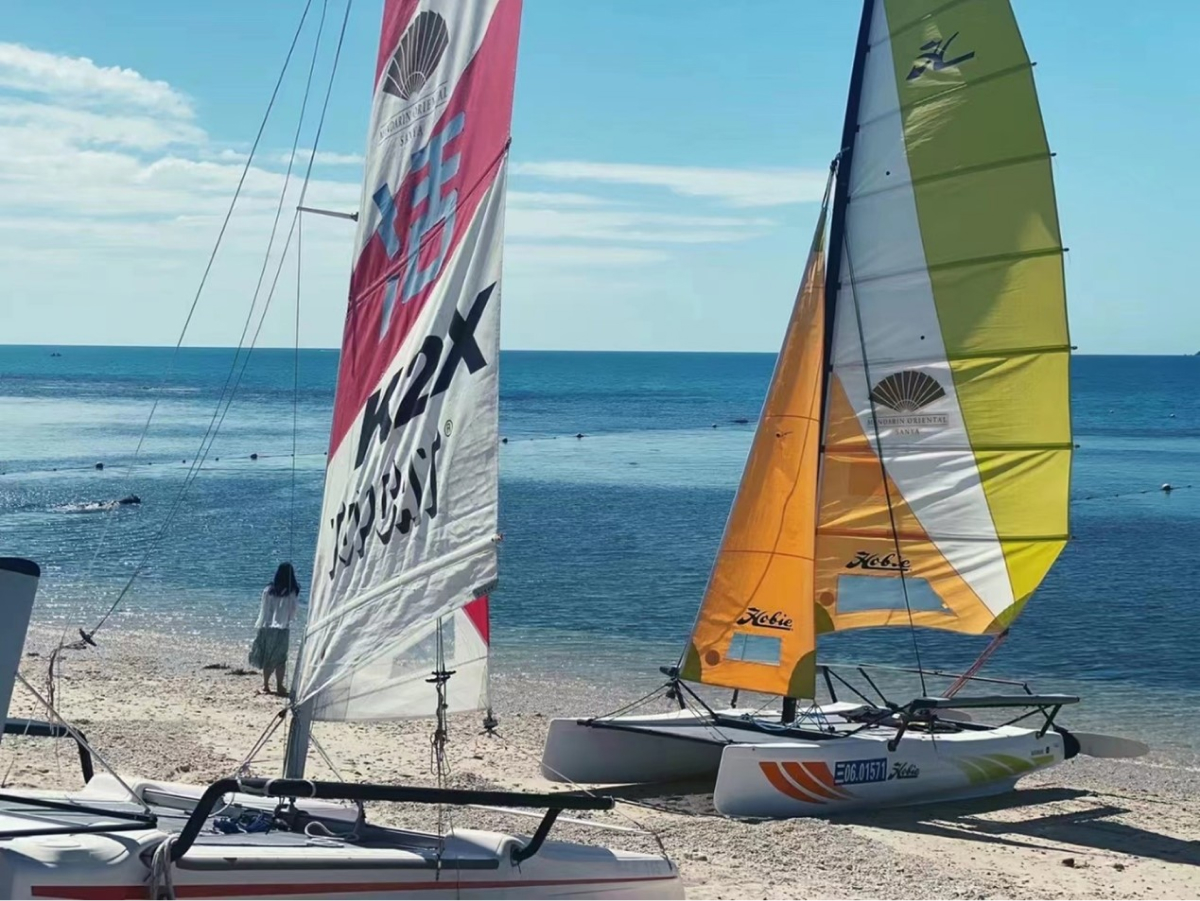 Sailing on the water in the private bay of Dadonghai

---
Yalong Bay

It is farther from Sanya downtown than Dadonghai beach and has been developed into an international holiday center with multiple 5 star resorts, golf courts etc. Eight Kilometersof white sand stretches along the crystal water, backed by palm trees and lush green hills. The water here is wonderfully clear, reflecting the blue sky. This is arguably the nicest place to dive on the entire island, with its crystal water, and bright-colored coral reefs as well as tropical fish abound. Yalong Bay boasts the five essential elements of modern tourism: sea, sands, sunshine, lush green plants and fresh air. making it a paradise for holiday travellers.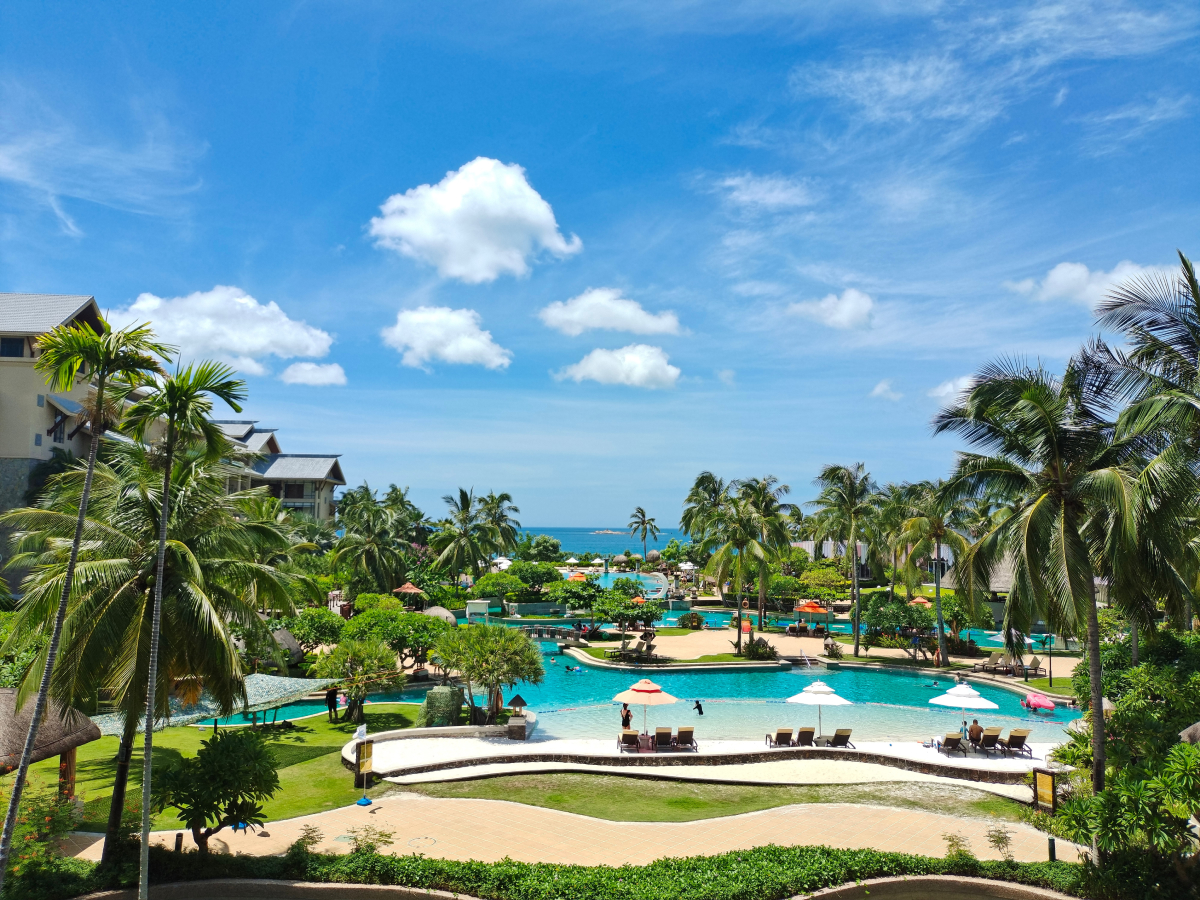 Yalong Bay Resort Hotel

---
Haitang Bay

If you are looking for a very quiet holiday away from the downtown hustle, then Haitang Bay Sanya is the perfect choice for you with world-class resorts, most spacious rooms and wild beach. Houhai Village in Haitang Bay is a small fishing village that is full of surprises. This is a holy place for sports enthusiasts and party animals. They surf during the day and dance at night. Villagers and travelers will get together for drinks and small talks while making new friends. In addition, Hating Bay also has the world's largest individual duty-free mall. If you go to Haitang Bay, you may not want to miss this shop. It has magnificent architecture and many branded shops for a much cheaper price.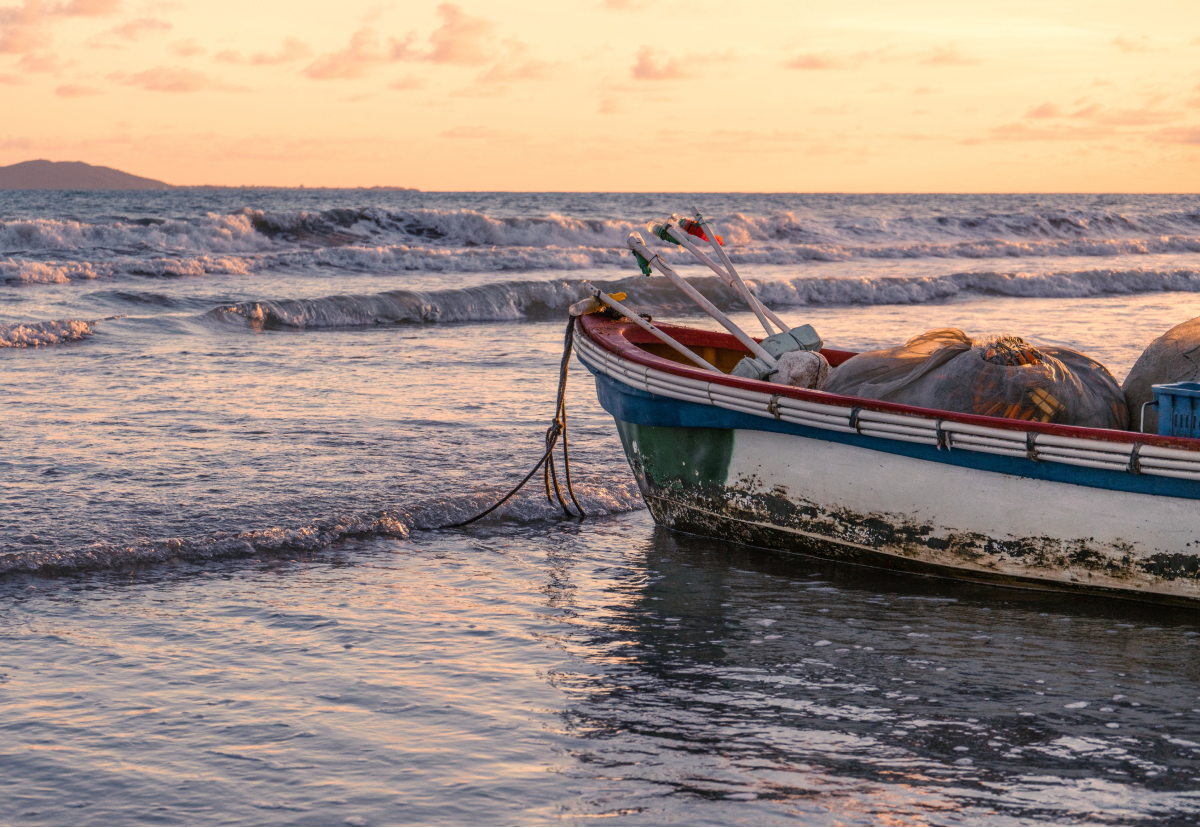 Small fishing boat in Houhai Village

---
Wuzhizhou Island

It is a beautiful tourist destination in Sanya with abundant and distinctive marine sightseeing resources. the island locates at the Haitang Gulf of Sanya, which prevents it well from typhoon area and makes it a natural world of tropical plants including dragon trees. It is also a regular in famous Chinese movies.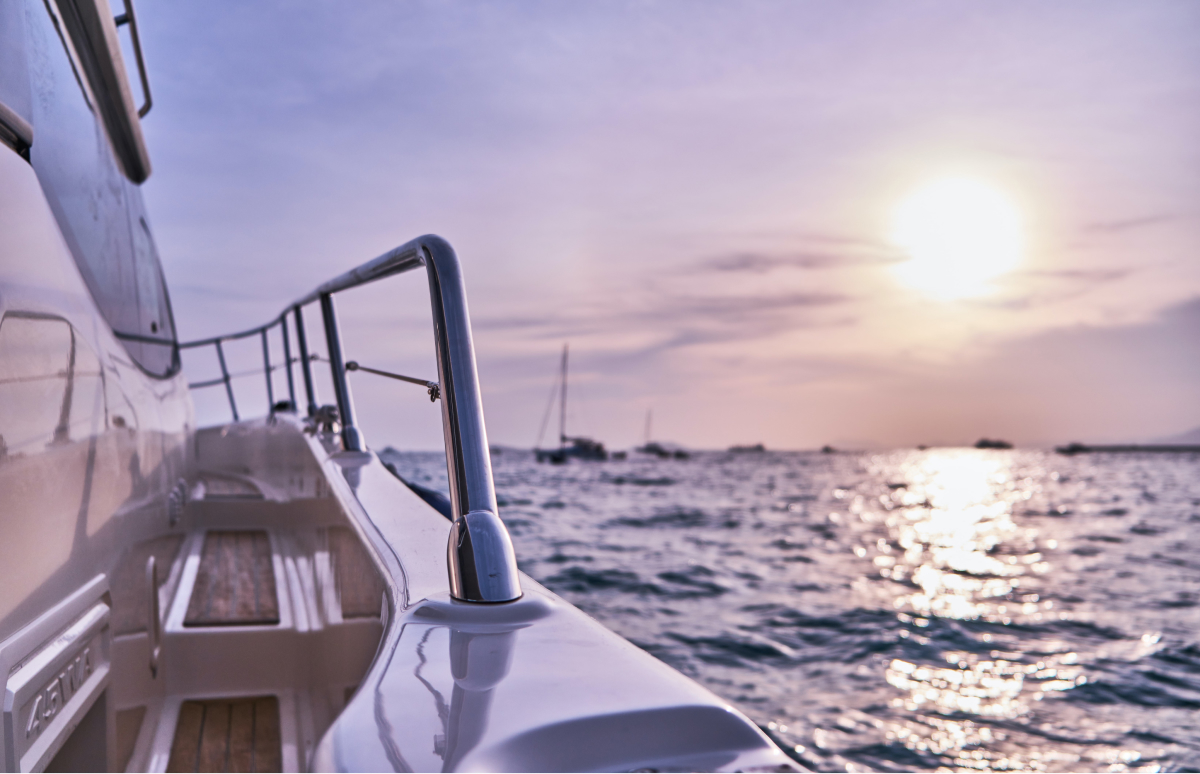 Wuzhizhou Island

---
Sanya is truly a wonderful place to live. You can join in featured activities in Wuzhizhou Island, explore primitive coastal landscape in Yezizhou Island, enjoy the Laid-back Life in Houhai Fishing Village. Wellcee is here to help you finding a suitable home in Sanya.