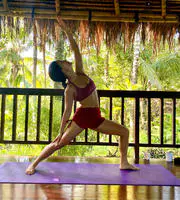 7 Best Restaurants to celebrate New Year Eve in Shanghai
751
Hangout
Shanghai
{{detail.collectNum}}
Hey dear, it's time to bid farewell to 2019. The next decade is upon us. The Magic City Shanghai is ready to welcome 2020 with open arms. What you gonna do, what you gonna go? It's not too late to plan your celebration in Shanghai. If you just want to go out and have a delicious meal, here are my favorite restaurants I would highly recommend:

RAW Eatery And Wood Grill
This place is definitely my favorite for good meat and nice environment. And the steak, OMG, soo yammmmiiii! I agree this place is pricy but it worth it for your NYE dinner for quality and good service.

BOR Eatery
First of all, I love love the space. The super open kitchen, you can see all the cooking happening from your table. My favorite dishes: hot smoked salmon, the grilled radicchio salad with burrata, and that chocolate dessert.

El Willy
Absolutely loved the view of the bund here. Great tapas with plenty of choices to suit everyone with the amazing wine list.

SHAKE
I like the Shake very much and go there regularly for 3 years now. The live bands they have are always entertaining and great fun. I always enjoy the quality cocktails. It's a perfect place for nice drinks and dance. Shake is certainly a must-visit in Shanghai. 

O'mills Artisan Bakery
O'mills is hot spot for its brunch in FFC. They have the best sourdough bread and avocado toast. O'mills also has an amazing dinner menu! And you have no need to queue for 45 minutes to get a table as daytime!

Cotton's
Atmosphere is beautiful and service is great. And cocktails are nice. They will have  an elegant New Year Eve set dinner with funky disco to dance the night away for celebrating the end of the old year and the start of new year.

Kartel 
Kartel follows its yearly traditions: CHAMPAGNE SHOWER! Dinner and a party, with a countdown on Kartel's rooftop terrace.